The following publications are available for either direct download (free of charge) or for purchase through the iTunes iBookstore.

Please note - These books can only be viewed using iBooks 2 on an iPad. iOS 5 is required.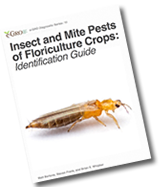 A new iBook for identification of common insect pests has been published.
This free iBook was funded with a grant from the Fred C. Gloeckner Foundation. The iBook can be viewed on iPads and Mac operating systems.
The current version has 53 pages and covers aphids, fungus gnats, leafminers, shoreflies, thrips, and whiteflies.
We will be adding additional insect and mite pests over the next two years of the grant. Future update notifications will be sent out from the e-GRO website. The final version in 2017 will include a print copy.

e-GRO Volume One - Poinsettia
This e-book is the first in the e-GRO diagnostic series of publications.
Written by Brian E Whipker and Ingram McCall, this book discusses fertility management, and offers a useful pictorial guide to nutrient disorders.
Click here to purchase this e-book from iBooks ( COMING SOON)

e-GRO Alert Volume Two - 2012 - FREE
This free of charge e-book is the second in the e-GRO diagnostic series of publications.
Edited by Claire Collie, Brian Krug, and Brian Whipker, this collection continues to deliver important, relevant, and useful information for growers.
Click here to download this FREE e-book (compressed zip file)

e-GRO Alert Volume Four - Sclerotinia
This e-book is the fourth in the e-GRO diagnostic series of publications.
The book includes a pictorial guide to symptoms of white mold in greenhouse ornamentals, and is wrriteen by Brian E Whipker and Nora Catlin
This e-book will soon be available from iBooks
Plectranthus: Cultural and Troubleshooting Guide
The iBook is 153 pages in length and includes 4 videos and 52 photo galleries. Major sections include a plant culture information, problem solving, and details about the major cultivars. It is a free download for iPads and Macs with the latest operating version (Oct 2013).
Click here to download (zip file)
Instructions for downloading and opening the Plectranthus iBook.
The Plectranthus iBook is large in size, therefore it is saved as a zip file.
Here are the steps to download the free book.
1. iPads do not unzip a zip file without an app. You will first need to download an unzipper app. FREE versions of Winzip or iZip have been used successfully to download the book. It takes about 1 minute to download the free app.
2. Based on utilizing WinZip app, get it installed, but don't open it.

3. Then go to the e-GRO website and download the Plectranthus zip file (221 mb - so have a good connection).
(http://e-gro.org/books.php
(It is the last, bottom item on the page.)

4. After downloading, it will ask about opening it, select WinZip.

5. WinZip will run and then will announce:
"Opening the file failed."
"Try opening it in another app?"

6. Try another app by selecting "iBooks".

7. It will then copy over and open in iBooks.

Enjoy the new Plectranthus iBook.